Did you know that Facebook has a feature that gives us the opportunity to track Facebook likes and shares of an external website? It can be installed on every website, and you can access it straight from the Facebook analytics tool called "Insights". You will get access to data that you cannot get with Google Analytics.
Track Facebook shares and likes without third party application
First you have to install the feature. It goes like this:
Go to facebook.com/insights.
Click on the little green button insights for your website in the upper right corner.
A Facebook popup appears
Write your URL in the "Domain" box.
Chose who is going to be able to see the insights for the website or blog in the box named "Link with". You can link it to yourself or to a Facebook fan page. If you link it to a Facebook fan page, every admin for that page is able to check the insights. This is the way you have to go if you want more than one person (you) to have access to the Insights data.
Go to your website and paste the

<meta property="fb:admins" content="***" />

in your website's HEAD section. Change the *** to your number, in my case it was 

<meta property="fb:admins" content="561696372″ />

Click "Get Insights" and you are done. If you do not see any insights, you might have to refresh the page for being able to see the insights.
What does the Insights "like and share"-data mean?
When you have installed the button you are able to track Facebook likes and shares, great,  but what does the data mean? You are probably seeing this view right now if you have followed the steps. (Data for my vife's blog)
First you see the date. It is by default the last month, like in so many other analytics tools.
Then you see the "Site engagement". This is the fun part! You can see how many times the content have been shared the last month, either by people clicking on the like button or then by sharing it manually to Facebook. For that blog it is ten times the last month.
The next arrow is "Distribution on Facebook". That tells you how many times your content have been seen on Facebook. (Impressions). In the arrow you see the number that your shares have been multiplied with. For that blog it is quite impressing, the ten shares have multiplied into 7544 impressions on Facebook.
After the second arrow, to the right, you see "Referral traffic to site". That tells you how many of the people that saw the content on Facebook actually clicked on it and ended up on your blog or website. In the arrow is the click through rate. For that blog it is 3%. That is by the way the reason why I chose that blog for the screenshot, on this blog that you read right now it is just 0,9%. :) On the sites I have access to I have seen everything between 0,1% and 3,3%. Everything over 1% is good, I would say. So from the ten shares or likes the blog got 227 visits. Who said you cannot get traffic from social media?
What works better, organic shares or like button likes?
Definitely organic shares. If you check the charts you will see that the blog got four likes and six shares. The likes did not deliver a single click back to the blog while the six shares sent 227 visitors back. This is one thing I have thought for a long time, but after tracking Facebook likes and shares I have proof for it as well. The reason is that when sharing content, every friend sees it in their feed, but when liking it only the ones that checks your wall will see the liked content. If a lot of people likes the same thing it will end upp in their friends news feed as well, but it takes a little more likes than this for that.
Things I like with Facebook Insights
You have access to old data! Yes, it is true, Facebook have all your data saved already, you just do not see it until you activate it for your page. But if you activate it in July you can see insights also from January. Or even older data.
It is on Facebook. You does not have to go anywhere else to see the tracking data.
Things that could be improved
Access to the data outside Facebook as well. I would like to get it to Google Analytics :) (Will never happen, though.)
I would like to see different data for different url:s on my sites. For example, the like and share data for this post compared to the like and share data for the Facebook banner post. Now all the likes from the whole domain is together in the soup.. EDIT: Now it is possible to see as well the "popular pages" in Facebook insights. So this is already improved, great!
Track Facebook send button
You can also track the new Facebook send-button. That button is one that visitors on your website can use for sending your content as Facebook messages or mails straight from your website. I have not yet installed that, so I could not track it. But you can do it and tell us how it worked!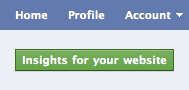 Are you going to try to track Facebook likes and shares on your website? What kind of results do you get? Is there anything I have missed? Feel free to drop a comment below!
Thank you for reading this post about tracking Facebook likes, I hope you liked it!