When you start working with a site, you havet o know what you have to work with, right? You may want to know what kind of links tou already have pointing to your site, and of course, you want to know what kind of backlinks your competitor have pointing to his site or subpage. Let's check!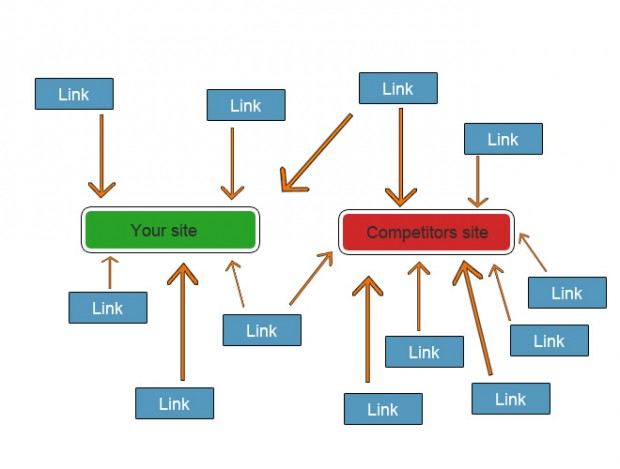 What kind of online tools are avialable for checking backlinks to websites?
We are focusing on online tools, because they are faster and easier to start with. There was one good, Yahoo site explorer, but that is now shut down by Yahoo, unfortunately. But luckily we have a few others.
Opensiteexplorer for checking backlinks


There is one tool that is quite good, that is the opensiteexplorer by SeoMoz.. You find it at www.opensiteexplorer.com. You can go there for testing it, just type in your site url and click explore. Without signing in, you will see the amount of links, and the anchor texts and url's from which the five strongest links come (according to opensiteexplorer, they does not need to be the strongest for real). If you make a free account, you will see anchor texts and url's for all the links pointing to your site. And, you can as well check the tab "compare link metrics" for comparing your own site with up to four of your competitors. There is a paid account as well avialable at Opensiteexplorer, which you can use for getting even more data and ranking reports. That costs $99 a month. But for only link-checking, the free but signed in –account is good enough to start with. Negative things with opensiteexplorer is that it does not have as much sites in its register as Yahoo site explorer had.
Ahref.com, a new resource for checking backlinks

I recently stumbled upon ahrefs.com, that also has its own register of sites, just like opensiteexplorer. This is a new resource and I have not had time to explore the quality of the register fully yet. But you can check backlinks for free at www.ahrefs.com, and if you make a free account, you get some more data.
Yaheoo "link:" for backlink checking
Yahoo has another way of checking backlinks as well, you can search for link:yoursite.com in the common Yahoo search engine. It is not as good as the old siteexplorer, but it works, it is free, and you do not need a login.
Google webmaster tools
Google webmaster tools is quite good for checking backlinks to your own site. Here it is impossible to check links to other peoples sites like in the other ones. But it is still quite good, it is Google's own data you see, and it is still Google we are optimizing for. Register your site at www.google.com/webmasters and verify your site for getting started. Tip: Sync your webmaster tools data with analytics, for getting all the info from one place.
Checking backlinks in common Google search engine (bad)
Google allows you to check backlinks to sites in the search field as well, you just type in link:yourdomain.com and hit search. It is really bad, it does not show anything that makes sense. Sometimes you find some links there, but it is often just a percent or two of every backlink that there is.
Why should I check backlinks to competitors sites?
First, it is interesting to see what kind of competition you have. Second, you can probably steal a couple o flinks from them, because if they have got links from a site, you can prbably get links from the same site with some work.
Thanks for reading about tools for checking backlinks, this was a post in the SEO Christmas calendar as well.