In today's SEO-tip we'll talk about keyword domains and how you can use them. I like to buy them and make campaign-sites, or satellite-sites as some prefer to call them. If you remember my checklist about writing search engine optimized texts, I told you at point 5 that you should use your keyword in the URL. Here we will do that even on a higher level, by having the whole url as the keyword.
Why should I build campaign-sites on keyword domains?
Even if Google have said that they have been giving less and less value to keyword domains in their search algorithm, the url is still very important. This is why you should use keyword-domains for satellite sites:
A keyword domain gets better rankings when searching for the keyword than a normal domain. It is just how it is.
When you get links from forums and blogs, the keyword will always be in the anchor text if it is in the domain.
As with headings and titles, a domain should tell what a site is about. A keyword domain does that. My domain, jonathanbjorkskog.com does not do that.
Examples of campaign-sites I have made on keyword-domains (No one is in English, unfortunately):
Maalämpö.org – A site about rock heat. In Finnish unfortunately. All the common domain names were taken, so I used .org. It works as well.
Namnlappar.net – A site about stickers for clothes, in Swedish. It tells about what it is, how to use them, and where to buy. Useful information, and good relevant links to the "main" site.
Kissanruoka.net – A site about cat-food in Finnish.
How to buy keyword-domains and build campaign-sites
Domain buying:
I guess that you know what your keyword is. Then go over to a hosting provider and buy that domain. (I prefer Bluehost for international domains and hosting). If you are in a specific country or language, buy a domain with that country-domain. They just rank better. For Finnish, .fi, for Swedish, .se or .nu, for france .fr and so on. But mostly, someone has already ordered them and made sites on them. So then you have to go for international domains. I prefer to prioritize domains in this order: First: Country domain. Second: .com. Third: .net, .info, .org. Fourth: Whatever else, or chose another keyword-domain. One international domain costs $11,95 a year, they are really cheap these days, not even a dollar a month. You need some hosting too, though. This is how I do it:
I started with buying a shared hosting at Bluehost a couple of years ago. That costs $5,95 per month I think. Chose one domain and order the cheapest package.
The price will be domain cost + hosting cost. About $6,95 a month for the first domain you buy.
Then, later when you build more satellite- or campaign sites (or whole websites), you will only pay for the domain, because you already have the hosting for the first one, you can use the same! I have A LOT of sites on the same shared host that I bought the first time. So for every campaign-site I make now, the price is only a dollar a month.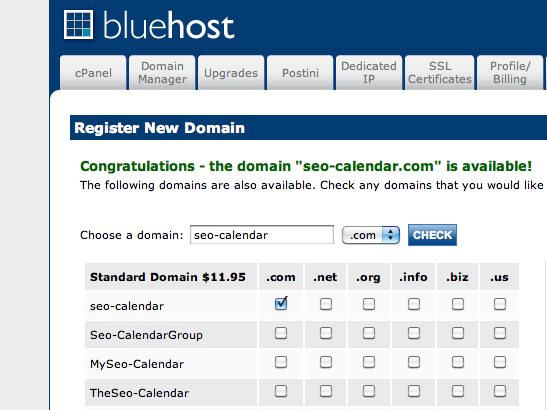 The domain "SEO-calendar" seems to be free. Order it and make a better calendar than me next year? :)
Make a site for the keyword-domain
Now the fun begins. You can make entire sites without knowing any coding at all.
Log in to the control panel at Bluehost (Or whatever host you chosed to build this on).
Buy a new domain or use the first one you bought.
Click on "Simple scripts" or "WordPress one click install".
That will install a WordPress blog on your chosen domain. It will give you the login and the password, and you will now have a brand new site with your keyword as the url. I wrote more about this a year ago here: WordPress and hosting.
Making the campaign-site on your keyword domain ready
Now it is time for you to log in to your new one dollar site and write some texts and add some content to it. Remember to follow the checklist for perfect onpage seo, but even more important, remember that you are writing the texts for humans, not for search enginse. Make it interesting, give some value to the readers (as I am trying to do here), add a lot of pictures, videos and facts. Make it easy for readers to go further to your REAL site by linking to it as early as possible and very visibly. Or even better, make visitors able to convert already on your campaign-site, without needing to go further to your real site.
I think this topic might need some more info as well, but good luck with trying, and ask me whatever in the comment field if something left unclear. Thanks for reading about having campaign sites on keyword domains! Back to the SEO-Christmas-calendar.