Today we are going to talk a little more strategic, about how you can plan your content for gaining some super good results in the local search. There are much less competition, and visitors are much closer to buying if they are searching locally, but there are of course a lot less people searching that way. Anyway, I am going to show you one easy method for content optimization for local search.
Content optimization for local search = Your main keyword + city
That is probably the easiest way to make your site ready for local search. Make an own url for every city in your target area, and add your main keyword to these pages as well. This works both manually and automatically, if you have some good data, statistics, or user info in some database that you can automatically add to the "local-pages", it is awesome. But do not automate it too far, every page does still need to be unique. But let's start with an example.
Example of content optimization for local search
This is an example for the Finnish market. So it is in Finnish. But I will translate it for you. It is in the rock-heat niche. (Green energy).
Main keyword in the rock heat niche in Finland is "Maalämpö". That has easily the most searches. But from Adwords reports we've seen that people search locally, and convert better locally. Example, maalämpö Helsinki. The thing we then did for a customer in that niche was to make a Google map on the website, where every single project they had made were listed. And every project got it´s own url as well. And all the cities got their own page, where every project in that city automatically were listed. And the pages got the title "Maalämpö + city". Check this post if you want to see more onpage optimization tricks (checklist).
This is how Google is supposed to look for a search on "rock heat + city" then:

The landing pages then look like this: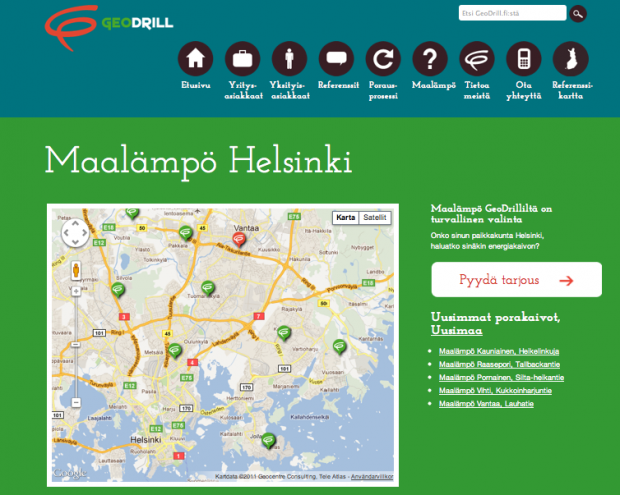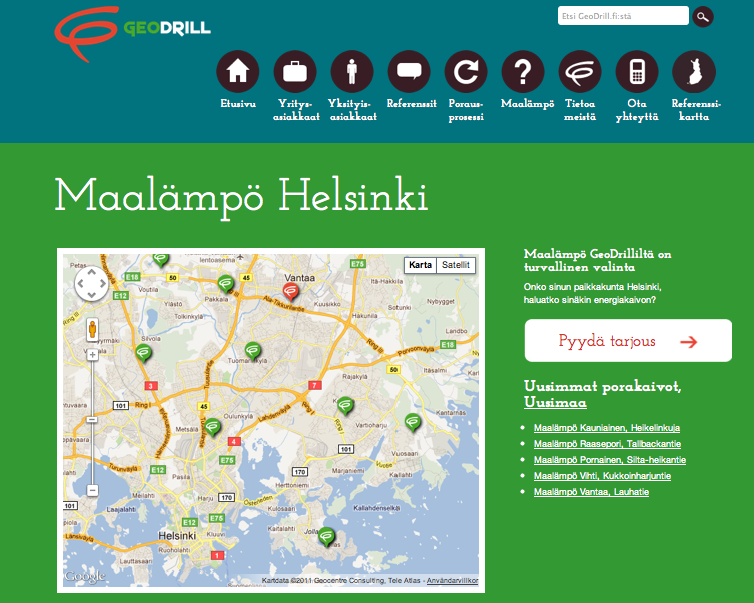 In the landing page is then a unique map, some text, a big conversion-button, and the projects listed in text-lists as well. More unique text is added below the map as well.
More example-pages:
So you get the idea in local search, make some pages with focus on the keyword + city, the competition is still so low that you will probably rank quite well right away. Just remember to make all the content unique, otherways you will be filtered away like a lot of the pages like yellow-pages, that has been using this technique already for a long time.
Now off for some testing! But do not steal my keywords..:)
Thanks for reading my post about content optimization for local search. Back to the Christmas Calendar