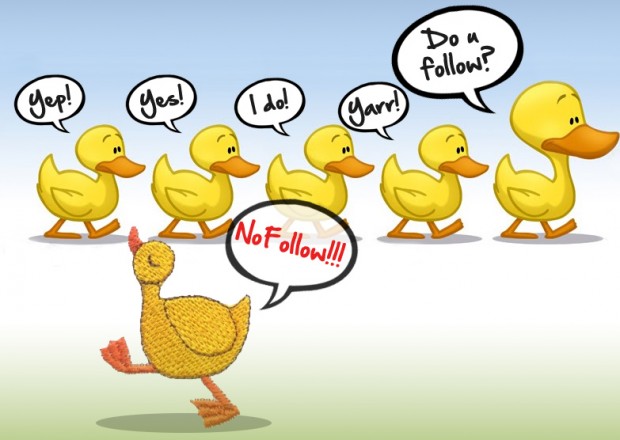 So, how to visualize NoFollowing?
When I think of following, I think of ducks. Why? I have no idea, but they are always following each other. And a duck that does not follow is probably kind of worthless, but as long as just one or two ducks are noFollow ducks, you can easily live with it, the ones that follow will keep you up and running. And you might as well chase the Nofollow duck and try to change it into a follow-one. But what happens if most of your ducks are noFollow? They does not give any value to you, because they are not following you to the same place as you are going.
Links are like ducks. The doFollow ones are the good ones
You survive if you have one noFollow link and five follow links. Then the follow-links will support you and push you forward. The noFollow link will not help you a lot, but it will not hurt you either. But now you probably understand that you should try to get the DoFollow-links instead of NoFollow ones?
Examples of followed and noFollow links
Followed links: Most forums, links from articles in directories, links from inside blog-posts.
NoFollow links: Links from Twitter and some social medias. Most blog comments are also nofollow. So stop sp*mming the comment fields with links, you do not want that kind of links anyway.
This post full of nonsense is by the way my way of attending a competition for a T-shirt with a hidden link on. The competition is on the "Nakna sanningen" blog..