Yeah, it is that time of year again, time to make new year promises for the new year, 2012. Promises that you probably never will be able to keep..:) But anyway, it is always good to set goals! Here are my new year promises for 2012: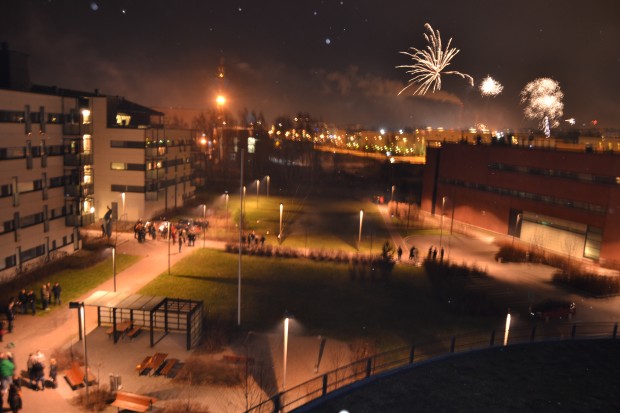 Jonathans new year promises for 2012
1. Be free from work more
I will try to get even more focused and therefor get more things done at work, so that I can relax when not working, and not need to work in the evenings.
2. Work more
Same as in new year promise 1, I will try to learn to work smarter, and do the right things at the right time. Work more does not need to be equal to "work longer days".
3. Kitesurf more
This is a promise. Kitesurfing makes me relax. I will keep you updated on this topic at my kitesurfing blog.
4. Work out more in the gym
I will probably need it. It would be nice to get in shape again after two years of crazy working, when starting up Genero Digital Agency with Sebastian and Rasmus. For the work-out purpose I ordered the domain Träningsblogg.com ("fitness-blog in Swedish"). My vife will act as my personal trainer weither I want it or not..:)
5. Lose more weight
I will show them it is possible, even if just sitting down at work, eating a lot of trash-food, Pepsi and energy drinks.
6. Sleep more
I will not stay up working in the nights as much as before. This is the new-year promise that probably will fail, because I like working in the nights when nothing can disturb. But I will keep it here as a goal.
7. Have more spare time
At least I will try to.
8. Run more half marathons
This one is easy. I just need to run one for succeeding here, cause I have not been running any before. And I will run the Helsinki City run in May with my colleagues and my vife. Now that is said, I cant take it back anymore.
9. Get more things done
Both at work and off work. At least I will get a new car and a new apartment in 2012. And I wil probably keep registering domains and build WordPress sites like crazy this year as well.
10. Write more blog posts
I will write more here, I will write more on the Genero-blog, I will be guest-blogging at "Forum för ekonomi och teknik" (A swedish magazine about economy and technology), I will be writing in the kitesurfing-blog, I will be writing in my blog about making WordPress templates, and probably on a lot more places, mostly in Swedish and English.
11. Own the result-pages in Google even more
I got it quite dialed in right now, what Google likes. I will do more of that. I will be focusing on some sites in Finnish, Swedish and English, in niches like pet food (Koiranruoka, barffaus, kissanruoka), green energy (Maalämpö, lämpökaivo), consumer packed food and recepies (Snellman), staff recruiting (Henkilöstöpalvelut) and a lot of more that I can´t tell you..:)
12. Drive and sail more boats
I like that! But I sold my boat through my "awesome" home-made boat-selling website "Halpa vene .com" (Cheap boat .com) site last year so either I have to get a new one or then I need to spend more time on the West coast where a lot of my friends are owning boats.
13. Grab the first and the second place on bloggtoppen.fi at the same time
Bloggtoppen.fi is a Swedish toplist for blogs in Finland. I will try to get this blog and Linas blog as the two ones with the most visitors at the same time at least once in 2012.
14. Get more likes on every Facebook page
The Facebook pages I work with are already growing like crazy (Musch, Snellman, and more..) so I don´t think this will be a problem. You can like this blog on Facebook as well, if you want to receive updates and interesting info.
15. Get over 2000 followers at Twitter so that I get rid of the stupid limit
Twitter is always telling me that I have reached my following-limit when I try to follow new interesting people. That limit goes away if I have more than 2000 followers. You can follow me for helping..:)
16. Have more vacation
I was free for two weeks in 2011. I will try to be free more this year.
17. Travel more
I was on two kitesurf-trips last year, one to Hurghada, Egypt, and one to Tarifa, Spain. This might be a little hard to top, but we´ll see.
18. Earn more
I wonder how it would be possible not to..
19. Stay more positive than the world-economy
This one is easy as well..:)
20. Live more (2012 is one day longer, right?)
Yes! One extra day! #Win!
This was the new year promises
I will put a check-sign before every line when I succeeded with the tasks. Stay tuned!