So, over the years I've explained to everyone that you can not log in as a facebook page, a facebook page is not like a profile, it has to be a real human being that has his profile associated to the facebook page as an admin. It looks like they are changing it all now. That's just so typical..
I have to re-think in my argues..
This is what I saw when I made a new fanpage: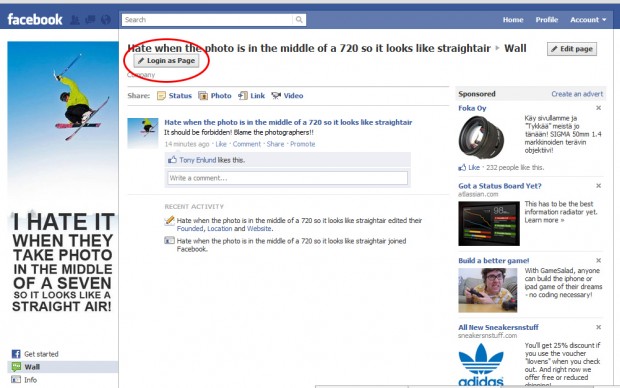 After I've clicked that "Log in as page" button, the button disappeared, I saw NO other change. So either facebook pulled back the feature, or then I just got logged in as the page, and it is not visible anywhere.
When I clicked "Account" I saw this: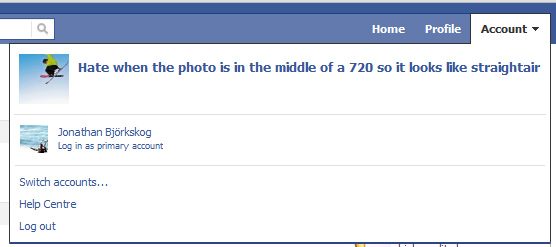 It looks like I easily can switch between the page account and my personal account, Great! And when I am logged in as a page, and someone likes something on the page, I get a notification that says "someone liked your status". And when clicking on it it goes to the fanpage and shows the status that have been liked. Nice. Okay, I wanted to change back to my personal account for more testing, then it all started bugging: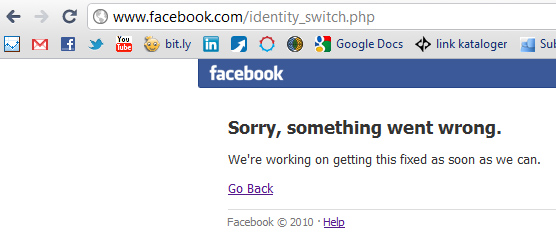 Now I can't login to facebook anymore. Maybe they do not have every function yet.. Okay, open up a new browser for more testing then!
Things I would like with this feature:
The possibility to comment other pages "as my page". This looks like it will start to work. At least for commenting from one page you own to another page you own. But facebook is still bugging. More testing tomorrow!

The possibility to comment my own page as my personal profile, not as the page,

(That would happen if you comment without first logging in as a page). I will do some testing and then write more! THIS IS NOT POSSIBLE, TESTED!
Facebook has rolled back this function now, after the crash on Tuesday!
Looks like they are having problems at facebook. Or then it is just a PR-trick? Showing a little teaser of what is coming, for getting a popularity boost and some attention? What do you think?
And by the way, I hate it when photographers take the picture in the middle of a 720, so that it looks like a lame straight air.. :)
Also, you can only have 74 characters in your facebook page name, and when I tried to make a page for a "athlete/sport", I couldn't get it through with the word "hate" in the name. But when I changed the page type to "consumer product" It let me through. At least I think that it was because of the word "hate". Tell me if I'm wrong.
Other things I've been writing about facebook: How to invite all friends to a facebook fan page