And NOW Google released Google plus! Google plus is now public and open for all the people that want to check out its circles and stuff. And Google are really showing that it is public now, just check the following picture: 
This is what I saw when checking out Google this morning. A big freaking blue arrow pointing to the +You link up to the left. The link you should click if you have not started to use Google Plus yet. When clicking that link you just have to sign up for a Google account for joining Google plus. And if you already have a Google account it is even easier. Then you just have to click the join-button on the Google plus page you arrive to when clicking the "+You-link". I bet there is going to be A LOT of new Google plus users today!
So what is now happening to Google plus?
The early adopters (us) now get some more buddies and friends on Google plus. And a lot of new people are joining Google plus today, this means the talking on Google plus might become more interesting. The early adopters are mostly tech-people and marketing-guys, talking about tech and marketing. And for the average boy/girl that is boring. But now when Google plus is open for everyone the discussed topics there might get a little more interesting.
What is in it for us that already had Google plus half a year ago?
Yeah, what's about us? Well, we have already made circles and have a lot of more "friends" there than the new users. That's an advantage. And, we can put this little badge on our blogs (below) and brag about us being there before everyone else..:)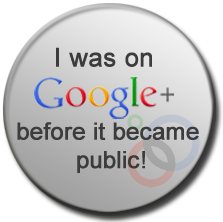 I guessed in the post where I reviewed Google plus that they would release it two months after that date, 1 july, and now it's two and a half months later, so I misscalculated the Google engineers with half a month.. :)
I think they will go public and launch it  for everyone in about two months. -Jonathan 1.7.2011
So, Go out and enjoy Google plus right now! And do not forget to add me to your circles.