A couple of years ago when Google launched their attempt of a social network, Google +, there were a lot of hype about wether it will affect or not affect search results. One thing that a lot of people have talked about is author rank and author markup.
Author signs disappears from Google search results
Google+ adviced people to put the "author" tag into the markup of all content on websites you make for showing Google that you own the page, and as a bonus, get your profile picture into the Google Search Results Page (SERP). Some signs of a ranking boost could also be seen by some people.
But now Google drops the profile picture from SERP. And the name as well.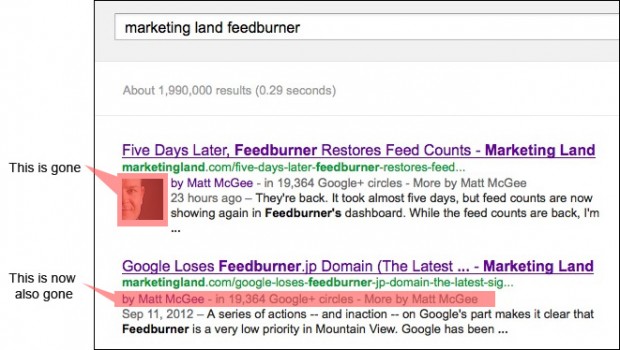 So, now I do not really see any reason of having the Google+ markup left in your source code anymore.
Why did Google remove authorship images and name?
John Muller writes "We've gotten lots of useful feedback from all kinds of webmasters and users, and we've tweaked, updated, and honed recognition and displaying of authorship information. Unfortunately, we've also observed that this information isn't as useful to our users as we'd hoped, and can even distract from those results. With this in mind, we've made the difficult decision to stop showing authorship in search results."
That's what Google says at least.
Other people points out things like these:
So few people used the markup that Google could never really use it
Search results with pictures and extra styling got many more clicks than the Google AdWords ads on the top, which meant that Google lost money.
What do you think was the reason?
Header picture credit: Pascal on Flickr under CC License