Earlier I have been writing about how to make Facebook banners for personal profiles on Facebook, but the trick over there does not work on Facebook pages (Company pages, artists, places, you name it). There are several things that causes problems for banners on Facebook company pages. Read on for finding out what it is and how to solve them..
Why does not Facebook profile banners work for pages?
Because Facebook has somehow decided to always randomize pictures when showing a Facebook page-profile. They do not do that with personal profiles, there it works simply by tagging yourself in the pictures in the right order or use an app for it. But you can read more about that here. Now let's focus on the problem with randomized pictures for Facebook pages.
Can we stop the randomization of the pictures in the Facebook page banner?
No. The simple answer is no. I have not found any way to do it. If you know any way, then tell me in the comment section below. So we have to deal with the rotating images.
Solution: Make a Facebook page banner that works even if randomized
That is kind of the answer to the question. I will give you a photoshop template where you can add pictures of the right size and then upload. Here is how to do:
1. Make a Facebook banner for your page listing your services
This is a quite popular thing to do, I have seen. You just make five small pictures with some text/symbols on and upload them into a new album on your Facebook fan page. The pictures will then be randomly shown every time the page is reloaded, but the order does not really matter here. Here is my Facebook page banner listing "services", for example:
And when I reload the page, the pictures in the banner appear in this order instead:
How to make the services-Facebook banner for your page
Here is a tutorial for how to make the banner I have on my Facebook page. I bet you can make a nicer one.
Start with a picture that is the right size for all five images in the banner. Here is one for example, you can download this by clicking on it:

You can also download the psd photoshop file with all the layers in it, if you want. The PSD is here: Facebook banner template.psd
If you downloaded the psd, just change background to anything you want and then start to add text or logos into the five small pictures.

Just remind that the background must work as well if the pictures get randomized.
Merge everything to one layer in Photoshop and cut it open so that you get five small images. Save every image as png or jpg and upload them to your Facebook page into a new album.
You can also add a link under every picture so that people clicking on the pictures actually can find more about the "service" they recently clicked on. You can see how I made it on my Facebook page.
2. Make a Facebook banner for your page with product pictures
Just start out the same way as with the other banner, just instead of inserting texts, you add your product pictures to the five small images, and the Facebook banner will now show your five (or more) best products in a randomized way on your Facebook page. It is of course possible to add more than five pictures, but only five will be visible at once.
3. Make a Facebook banner for your company, with five humans inside
In the same way you can make a banner with your five employees in. Five people against a white background would look very nice, I suppose. And people on websites gives trust, I bet it works the same way on Facebook pages as well.
4. Make a profile banner for your fanpage, with links to other social medias
That is one thing I tested as well. Put five small logos for five other services than Facebook in the picture in Photoshop. I made it with white background, I think it works quite well. Then just add the link to your page in that particular social media in your description for the image and people will find their way to your page or company on other social medias as well. Here is an example: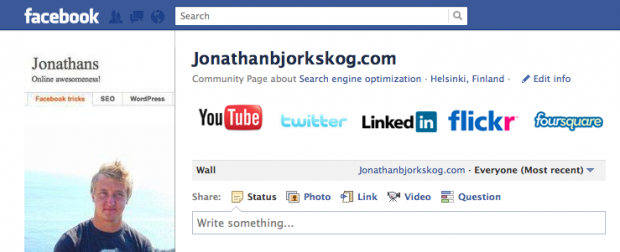 Have you found other creative ways of making Facebook banners for pages and companies? Or did I inspire you to make something nice? Then post the creations in the comment section and I will add an "Examples" section here below where I showcase your best creations. You'll get a link a s well. Thanks for reading! // Jonathan
And do not forget to go and like my Facebook page (with a banner :) for receiving all the news from this blog as fast as possible.