Now, today, the first of June, it is possible to add a plus one button (+1) to every website! Google announced that they release it for live use today, after a two months test period. (Yes, you have been able to test the Google plus one button already, but only for search results, not directly on websites.) Read on for finding out how to add the plus one button to your website!
How to add plus one button to website
You can go to this page on Google. There is provided a code that you have to insert on your website and your blog on the places where you want the button. It is very simple, just a simple javascript tag in the header of your page, and a custom Google code on the place where you want the plus one button on your website.
This is the code that goes into the header: <script type="text/javascript" src="http://apis.google.com/js/plusone.js"></script>
This is the code that you insert where you want the +1 button to appear: <g:plusone size="tall"></g:plusone>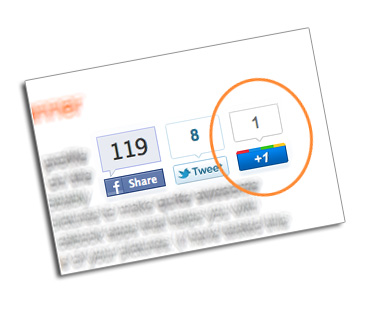 That's it! The plus one button will now appear on your site! Like this you can add it on single pages and posts also in WordPress, but if you want a separate plus one button for every post on your blog page (often front page) you need to tweak it a little more. More about that here: Add plus one button to WordPress.
One thing to note, you have to be logged in to Google (Gmail for example) for being able to use the button. I added it to this blog now as well, you can try to plus-one this post by clicking on the button, it is on the top of the post, beside the Facebook- and Twitterbutton.
Also check the Google Plus social media.